president of Inclusion International

We advocate with great energy for the inclusion of persons with intellectual and developmental disabilities
By Mr. Wael Ahmed Allam & Mr. Hicham Med Koutami
wael.allam@schs.sharjah.ae ; hichamkoutami@schs.sharjah.ae
Who is Sue Swenson?
She became passionate about disability advocacy because her middle son, Charlie, had profound disabilities. She works hard to make life better for people like her son.
Sue works with many non-profit organizations and speaks at global events to promote our vision of inclusion.
She has worked for many disability charities and has had lots of important roles in the US government.
Currently Sue is working for the Biden White House, and has previously worked under President Obama and President Clinton, speaking out for groups that improve the lives of people like her son.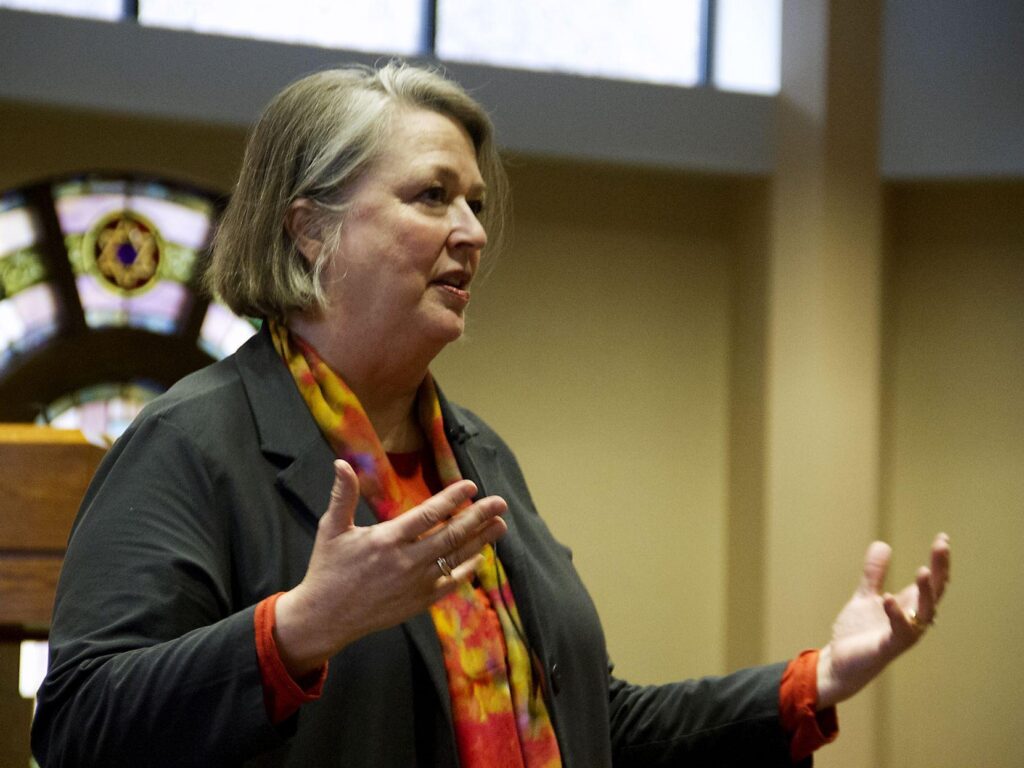 Can we get an idea about the inclusion international establishment? and the reason for this?
Inclusion International is established to include self-advocates, families, service providers, and researchers. We include all these members because all contribute to advancing the human rights of persons with intellectual and developmental disabilities and their families. Only nationwide groups led by self-advocates and/or families are voting members.
How could you combine between your government jobs and your role in inclusion international? How did you benefit from your experiences as an official employee in supporting and leading the organization?
I was elected to the president elect role when I was near the end of my service in the Obama administration. Our ethics office gave me permission to do so. I believe that a knowledge of government programs and how they work has been very helpful to me as a leader of a volunteer organization such as Inclusion. I often observe that families and disabled people put too much faith in government programs that are available rather than thinking about how those programs might be more helpful or effective. It is usually most successful to work with government leaders to find solutions, rather than just complaining to them.
You started from a private case towards a general case in the whole world, so how did that development happen?
This is such an important question and one I hope all advocates consider. My story is only one small example. When my son was diagnosed, I went back to graduate school and earned an MBA. I had begun my journey advocating only for my son and soon realized there were others in my community who wanted the same inclusion I was seeking. I started to think about data. First, I worked with friends to deepen my understanding of others' points of view. Then, I joined groups of parents in our school and in the city-wide school district of Minneapolis.
Then I was invited to Statewide committees for Minnesota. By this time, my advocacy for my son was quite separate from committee participation and leadership. I believe this separation is ethically important to avoid being given "special" treatment just because you participate in an official committee. I wanted everyone to have what my son had. I then began to meet with advocates from many other states through official organizations such as governors' councils and university programs. These are funded in the US by the Developmental Disabilities Act (DD Act).
I began to understand that everyone's life is different, but their desire for rights and freedom was the same. I was invited to testify in the Senate about the DD Act and later about the need for family support. By then I understood that I needed both the passion that comes from personal experience and the ability to find and convey accurate data about all Americans. I was then encouraged to apply for a Kennedy fellowship to work in the US Senate on disability legislation for a year.
My family encouraged me to move to Washington, DC for and they kept things working at home while I travelled home twice a month. (Advocacy is a family affair!) I worked all year on the Individuals with Disabilities Education Act and managed at the last minute to be the staff lead for the successful reauthorization of the DD Act.
I got to know some national leaders and even Senators in that year and was told that I was being considered for a White House appointment to run the Administration for Developmental Disabilities. From there, I have held various nationwide and federal jobs in Washington. Because I worked at The Arc which was a member of Inclusion International, I was asked to participate in the disability caucus that was writing the Convention on the Rights of Persons with Disabilities at the UN, and that gave me an opportunity to testify with my son about inclusive education and legal capacity on behalf of Inclusion members around the world. Just so you know, there have been plenty of disappointments and failures in my career. I believe I have learned from each one. I often encourage others to first learn to be a good follower; to always share power with others; to always quit one old role when accepting a new one so that others may have a chance to lead; and to pay attention when a door opens and you are asked to do something out of your comfort zone. Be brave. Live and learn.
What is the distinctive vision of the inclusion international regarding the inclusion?
We work to support our members to achieve their goals in their own countries, as they define them, and our members support each other. Each country is different, culturally, economically, and politically. I have seen that our members have a very sophisticated understanding of this diversity.
Our Statement of Unity is an aspirational document that helps us see we are all working toward the same goals. We embrace diversity within each country, too. We are very clear that to achieve inclusion for any one person, the system itself must be inclusive. That means all persons must be included. We advocate with great energy for the inclusion of persons with intellectual and developmental disabilities and their families and we seek partnerships with other marginalized groups so that we may support their work.
What are the most important challenges facing the goals of the organization? How do you plan to overcome it?
During COVID, we learned that communication systems such as Zoom, Teams and Google Meet were very useful to help us keep going even when we could not travel. Now that travel is opening up a bit, it is more expensive than it was. And it is VERY clear that people prefer to meet in person if at all possible. We are trying to continue virtual meetings for our business meetings while encouraging regional meetings where possible and planning to bring everyone together for the upcoming World Congress. We hope everyone will join us. I think it is particularly important for us to come together so that we may see how enormous our mandate is. I hope we can grow to accommodate it.
What is your impression of the current state of the inclusion globally in general ?
I do worry that the focus on self-determination and individual budgets is based too much on neoliberalism and the theory of individual responsibility to the detriment of investment in the development of inclusive communities. We need communities to provide a warm welcome and to be accommodating. No man is an island.
What do you suggest to speed up the process of inclusion , which we sometimes feel is not going fast enough?
This is a hard one, because I would ask families to do the hard thing and let their sons and daughters be present even when they are not welcomed, even when the system is not yet inclusive. Allow your child to attend a school that is nowhere near perfect. Don't wait until everything is right. Give up endless therapies in favor of experience and friendships.
Always remember that bad inclusion is better than exquisite special segregation. There is zero evidence for segregation, and inclusion is a human right. I have personal experience with what I am asking families to do. It can be painful. Sometimes you need to do it over and over again as your child ages. Build relationships with other families who are committed to inclusion, too, so that you can support each other. Your child will begin to experience the dignity that comes with inclusion. This is a core strength. This is the only way I know to make change. Step up. Step in. Connect.
What are the common things that unite families of people with intellectual disabilities over the world?
Families are in this together. Our disabled family member is always a powerful part of our family. Together, we experience isolation and the heavy burden of being left out, whether that is from a village, a house of worship, a school, or a workplace. Outsiders seldom understand that parents are not sad because they have a child with a disability – they are sad because they and their child are rejected by their communities. Luckily, we also seem to share a firm knowledge that this is morally wrong. We know in our hearts that we are all human and we all have human rights. This awareness is the key to developing a strong sense of social justice.
How can families be empowered to defend the causes of their children and advocate for their rights, according to your experiences in this field?
The school where I first managed full inclusion for me son Charlie used to call me "the nice lady from Hell" because I never stopped asking for what he needed, I never stopped trying to help staff get what they needed, and I never went away or backed down. I used the same methods in meetings with Senators, the Secretaries who ran federal agencies, and other powerful people. Complain in private and praise in public. If you are kind and indeed inclusive of others, you will feel better about being forceful.
There are still many challenges to employing people with intellectual disabilities. What are the organization's efforts to improve these conditions, or what are the proposals in this regard?
Unlike education and community services, employment is not generally run by government. Advocating with a business is not familiar to us. It is usually not rights-based, and it is not top-down. Each disabled person gets a job based on a business model when an employer has a chance to see that, yes, they have a disability, and yes, they also have a skill and can contribute. In the world of employment, expectations are key. We know that children who have experienced inclusive school are far more likely to be employed as adults. Why? Because they know how to get along with others. They have "soft skills." And they have an expectation of doing what others do. Parents and siblings need to have this expectation, too, as much as employers do. It is a culture shift, and the good thing about a culture shift is that one person can begin it.